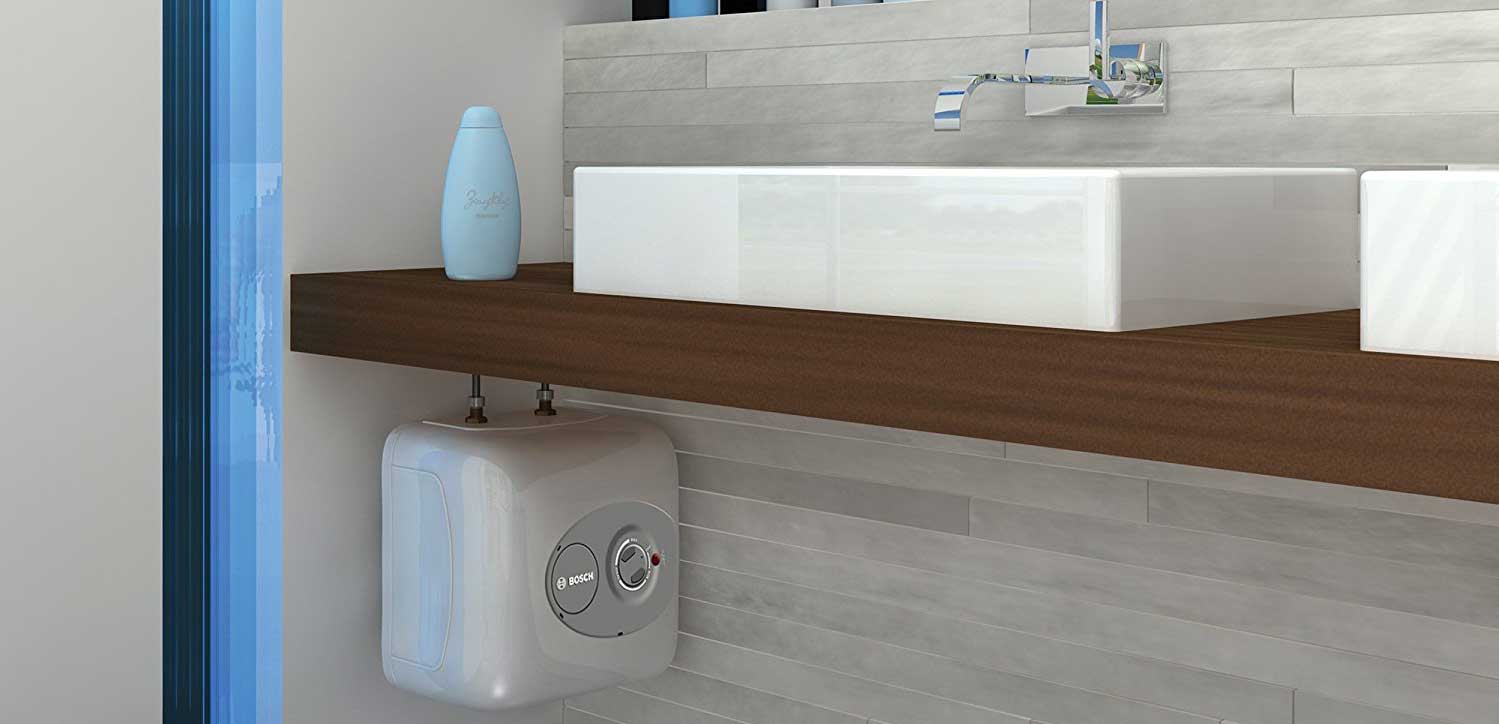 Under sink water heaters provide near instant hot water at the point of service. These compact units are great for the kitchen sink, bathroom sinks, wet bar and specialty insulation in offices. While this appliance is smaller in size it still functions the same as your whole house water heater, just on a smaller scale. The heaters with a tank typically can provide 2-4 gallons of hot water and tankless units can provide unlimited hot water.
We looked at a plethora of heaters but narrowed it down to our top 5 picks. Below is a chart of what we believe are the best units which proved the most value for your dollar. Further down we have listed all the under sink water heaters for your review.
Top 5 Under Sink Water Heaters
| Specifications | BOSCH T 2.5-Gallon | WaiWela WM-2.5 | Eccotemp EM 2.5 | EcoSmart Eco Mini 6 | 6 6 SOMS K |
| --- | --- | --- | --- | --- | --- |
| | | | | | |
| Storage Capacity | 2.5 Gallons | 2.5 Gallons | 1.5 Gallons | 6 Gallons | 6 Gallons |
| Voltage | 120 | 120 | 120 | 120 | 120 |
| Max Amp | 12 | 12 | 12 | 12 | 12 |
| Temp Control | Dial | Dial | Dial | Dial | Dial |
| Warranty | 1 year | 6 year tank / 2 year parts | 5 year tank / 2 year parts | 5 year tank / 2 year parts | 6 year tank / 1 year parts |
| Size | 13.75" x 13.75" x 10.75" | 14.5" x 11.75" x 10.25" | 12" x 12" x 20" | 20" x 13.8" x 14.5" | 15.25" height x 14.25" Diameter |
| Max Temperature | 145°F | 140°F | 140°F | 140°F | N/A |
| Usage | Bathroom | Bathroom | Bathroom | Kitchen | Kitchen |
| Weight | 15.5 lbs | 20 lbs | 17.9 lbs | 25 lbs | 39 lbs |
| | Check Price | Check Price | Check Price | Check Price | Check Price |
Advantages of an Under Sink Water Heater
Reduced Water Waste: With the water heat no more then a few feet from the delivery point, you will not waste water while clearing the pipes of cold water. Depending on your current setup this could save your hundreds is not thousands of gallons of water a year.
It will reduce your energy costs. As above you will not be leaving hot water in the pipes between the whole house unit and the point use, which could be 1-2 gallons.
Having instant hot water without using recirculating pump or lines will save energy
These units are compact, lightweight and small, which saves you room under your sink.
Installation can be done by average DIY'er
New models or very safe with many safety features built in such as: pressure relief valves, overheat protection, digital temperature gauge
Convenience and less frustration. Let be honest while 30 seconds doesn't sound like much, when you are in a hurry 30 seconds and seem like a lifetime. Having hot water delivered in a few seconds vs 30 seconds is going to save you some frustration in the morning when you are running late for work
What you need to know when buying a water heater
Just like cars, there are many options you need to consider when picking a water heater. Having a better understanding of what your needs and wants are will make your selection process easier and in the end happy with your selection.
Electrical Requirements:
Since gas heaters need venting to the outside of your house, gas units do not make sense for under sink applications If you have an existing unit under your sink heater look and see what the current rating is and match that to your new unit. If you are installing on for the first time, you need to do some research. Under sink heaters either run off 110 volts or 220-volt. 110 volt is normal wall outlet. 220-volt is what clothes dryers and kitchen ovens run off. It is not very common to find a 220-volt outlet under a bathroom or kitchen sink.
You will also need to consider the circuit breaker size (measured in AMPS). You can do this by looking at your electrical panel and seeing the breaker size. 15-20 amps is very common for a 110-volt line. 40-50 amps is common for a 220-volt line.
Tank or Tankless
The biggest option to choose from is a water heater with a storage tank or tankless water heater. A storage tank water heater operates in the same fashion as a conventual water heater. There is a small storage tank, which holds between 1-7 gallons of water. The heater is constantly keeping the water in the tank heated. Tankless units heat water on demand. While we are big fans of tankless water heaters, this is an application. Tankless water heaters have a have a short dewl time from  when the unit is activate until it can produce hot water. This dewl time is limited but really defeates the purpase of "instant hot water"
Flow Rate/ Sizing
The flow rate is the measuring the amount of water which flows from the faucet/appliance in a 1 minute period. Its measured in gallons per minute (GPM). A bathroom faucet has an average flow rate of 0.5 GPM and a kitchen sink 1.5 to 2.5 GPM. Most of the units we looked at had storage tanks of 1 -7 gallons. We think 2.5 gallons is an ideal size for bathroom sink. A kitchen sink has a higher flow rate and is typically on longer so we like the 5-7 gallon sizes for under the kitchen sink.
Knowing the flow rate will help you pick the correct size unit to meet your hot water needs.
Temperature Rise
This measurement is mainly for people who choose to install a tankless water heater. Manufacturers rate their heaters in how hot a unit can heat the incoming cold water at a given GPM.
For example, If you live in the southern part of the United States the incoming water will be around 70F. You want 105F water in your kitchen with a flow rate of 1.5 GPM. You would need a temperature rise of 35F at 1.5 GPM. However, if you live in the northern part of the U.S. and the incoming water is 45F, but you still need 105F water for your kitchen, you would need a temperature rise of 60F. This increases the size of heater you install.
Recovery Rate
While similar to temperature rise, this is measurement is for water heaters with a tank. The manufacturer will rate a unit by how much water it can heat in an hour at a given temperature rise.
For example, A Bosch ES8 has a recovery rate of 6.8 Gallons Per Hour (GPH) at a 90F temperature rise. So, if your incoming water is 40F, the unit can heat 6.8 gallons of water to 130F in one hour.
Activation Flow Rate
Again, this is for people who select a tankless unit. To activate the heater, a certain amount of water needs to be flowing through the heater before the heater will turn on. In smaller units, this is typically 0.25 -0.3 GPM.
Warranty
While we all hope you never have to use a warranty, things still break and it is nice to have peace of mind. Most warranties are 5-6 years with the exception of Ecosmart's and theirs is only 1 year. Also, read the fine print on the warranty, some manufacturers require a licensed plumber to install the water heater for the warranty to be valid.
Size
While these units are very compact, they still do take up valuable real estate under your sink and you need to make sure it will fit under your sink.
Installation
If you already have water heater under your sink and are just replacing it, then this is an easy task, which can be done by an average DIY'er in a matter of a couple hours. You should only need adjustable wrench and screwdriver to swap out the old unit.
Things become a little more complicated if you installing a water heater for the first time. The biggest challenge is understanding how much and where the power is going to be coming from.
When installing a unit it is very common to  plumb the supply line with the whole house hot water line. Plumbing the supply hot water greatly reduces the recovery time for the water heater under your kitchen.
Best Bathroom under sink water heater – Bosch GL 2.5 Review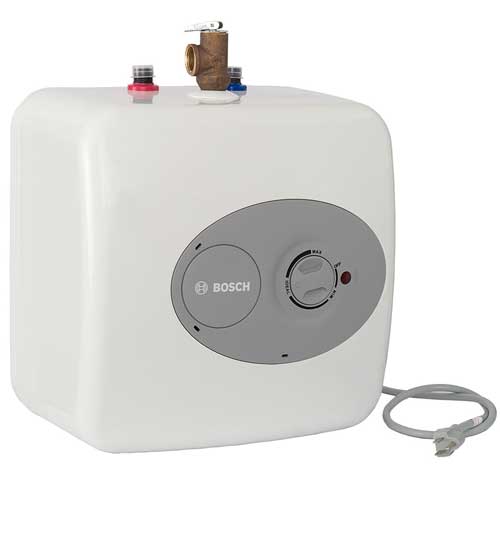 We are really big fans of the Bosch Gl2.5 for several reasons. First its from Bosch a company with a lengthy, positive track record in designing and manufacturing water heaters. This unit is light weight and compact giving you flexibility in where it is installed. Additionally, it operates on 110V so in some cases you do not need to wire a new line. The installation on this is very straightforward and can be done by the average DIY'er or handyman. The unit does not need to be hard wired, so this helps with speeding up the installing the unit. The 6-year warranty is also appealing. Finally, the unit has a built-in pressure relief valve for safety, which something we really like to see on any water heater.
We only found 2 down falls with this unit. Every 18 months you need to replace the anode, while this is super simple to do it just one more thing to remember. The other thing, this is more of a pet peeve is there is no digital temperature read out when setting the temperature. We would like a little more certainty than low, medium and high. However, on the newer models, they did make it much easier to set the temperature by having the dial on the outside. The older models you had to open up a cover to access the dial.
Bosch GL 2.5 Specifications
Electrical: 12 amps / 120 volts
Heating Capacity: 1440 Watts
Max Operating Pressure: 150 psi
Dimensions: 10.5" x 14" x 14"
Tank Size: 2.7 Gallons
Warranty: Six Years and one year on Parts
Check Amazon Price
Other Bathroom Water Heater Options – WaiWela WM-2.5 Review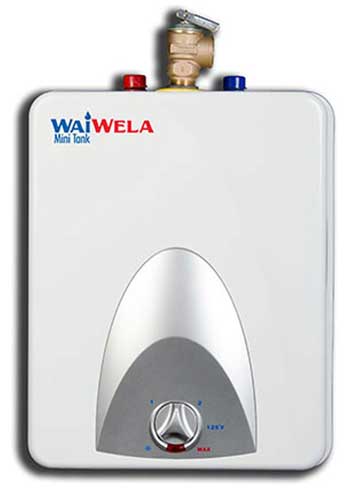 While WaiWela might not be a household name, they are well established in tanked and tankless water heaters. This is a great unit and has better features than the Bosch unit. The only reason we didn't rank it #1 is the history of the brand is not near as long as Bosch and the price point is higher.
The storage tanks are coated with the highest-grade glass enamel coating, preventing any sort of corrosion and not adding any taste to the water. They manufacture their mini tanks to pass 174 different UL test. What we really like about this unit is it only draws 12 amps and in some cases can be used without having to do any additional wiring.
The heater can be mounted on the wall or floor. CFC-free foam insulation is used to insulate the holding tank, so you do not need to worry about any off gassing. Also, it as slightly more appealing warranty than other manufacturers. Just like the Bosch unit, mentioned above, this unit comes with a built-in pressure relief valve. The big benefit of this unit is it does NOT need to have the anode replaced. The only maintenance you might need is to clean the calcium build from the heating elements. This will vary depending on what level of hard water you have. The other big benefit is it has a built-in "Freeze Protection" feature. This is great for cabins or garages. All you have to do is turn the dial to the snowflake and your all set.
WaiWela WM-2.5 Specifications
Electrical: 12 amps / 120 volts
Heating Capacity: 1440 Watts
Max Operating Pressure: 150 psi
Dimensions: 14.5" x 11.75" x 10.375"
Tank Size: 2.5 Gallons
Warranty: Six Years and Two year on Parts
110-120 Volts
Check Amazon Price
It's on the Short List Eccotemp EM 2.5 Review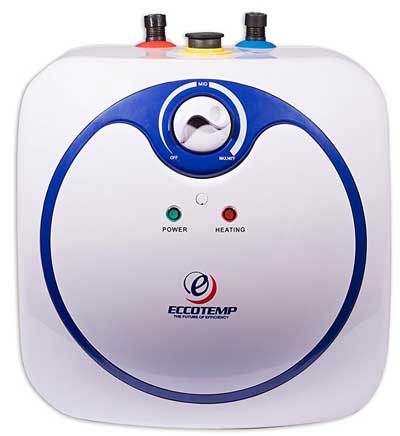 Similar to WaiWela, Eccotemp is a new player in the water heater, relatively speaking. In 2004 Eccotemp was founded and started making water heaters, tankless water heaters. The biggest benefit to this water heaters is it runs of 12 amps so there is a really good chance you don need to run dedicated circuit breaker saving you installation costs. The real attractive feature about this unit is the cost. Roughly 20%-30% less expensive than the other units. Similar o the WaiWela this does have a Freeze protection setting. Just turn the temperature dial to the snowflake and you are all set.
While this is a very solid unit for the price point the downfall is the overheat safety switch is located on the bottom fo the unit behind a panel. To access the switch you have to remove several screws from the panel, which can be challenging once the unit has been installed.
Eccotemp EM 2.5 Specifications Specifications
Electrical: 12 amps / 120 volts
Heating Capacity: 1440 Watts
Max Operating Pressure: 150 psi
Dimensions: 12" x 12" x 10.375"
Tank Size: 2.5 Gallons
Warranty: 5 Years on leaks and Two year on Parts
110-120 Volts
Check Amazon Price
Best Kitchen Under Sink Bathroom Heater EcoSmart Eco Mini 6 Review
The Eco Mini 6 from EcoSmart is a great choice for a kitchen sink. This unit has a large 6-gallon storage capacity but only draws 12 amps. This unit basically code use the same outlet as your garbage disposal (check local building codes). Like most water heaters this comes with a pressure relief valve included. Additionally, we were impressed with the recovery time. 37 min @ 60ºFtemperaturee rise, while this might not be the fastest recovery rate, it is very impressive for a unit only using 12 amps. The unit also comes with Freeze Protection. Just like other models, you need to turn the temperature dial to the snowflake and you are all set. The warranty is a 5 year limited on leaks and 2 years on parts, so basically the average warranty.
While this is a great unit there are a few shortcomings with this unit. It comes with a 40″ pigtail, which means it doesn't have a plug and its designed to be hardwired. To overcome this you can add a plug. Also, a standard faucet hose will not connect to the threads. You will need to find a 1/2″ female to female Brass pipe coupling and a 1/2 male brass pipe coupling, which can be found at Homedepot or Lowes. Finally, the unit is rather tall measuring a little over 19.75″ plus you need some clearance on the top for water connections, so this might make it a little tricky on installing it.
Check Amazon Price
Other Options for Under the Kitchen Sink – Reliance 6 6 SOMS K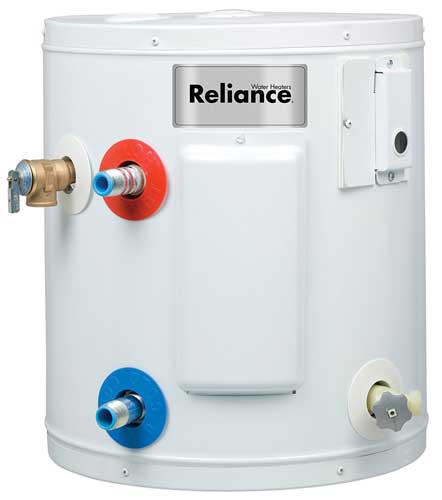 The reason this unit made our short list is the is you can have the plumbing lines connect on the side or top of the unit. The side unit lines give you some more flexibility when installing the water heater. Most of the competitors only have water connections on the top of the unit. Also, this is the best warranty we have seen for an under sink water heater, it comes with a 6-year warranty on the tank and parts, most of the competitors limit parts warranties to  1-2 years. Also, this unit uses only 13.5 amps, which if you have 20 amp service you should be able to use this line without needing a dedicated line.
There are a few minor issues with this unit. There is no "Freeze Protection" setting, which if you plan to use this in your primary home it shouldn't be an issue. Also, the unit does not come with a cord. You will need to hard wire the unit or buy a cord. Other then these minor items, this is a great little water heater.
Check Amazon Price
Please Check your local building code:
While we do are best to provide accurate information, there are something's which we just can't anticipate. While most cities follow International Plumbing Code (IPC) there are some cities, which have different requirements. A simple phone call can help save you time and headache.